Accurate and on time Employee payroll & complying with statutory laws are crucial to running a successful business. Quick & Easy access to accurate data points can help you gain insights into your workforce and help you make adjustments to align them to your business goals. Virtua Hub provides affordable payroll outsourcing services in Chennai to suit the needs of any kind of business across different domains. Virtua Hub simple payroll outsourcing service, you can rest assured of less paperwork and you get the best value for money. We fully understand that payroll processing is a time-consuming but extremely important process as it involves two of the most valuable assets for your organization – People & Money. We take care of it so that you can concentrate on other important tasks like sales, marketing, and company expansion plans. We are aware that payroll processing service is a mission-critical activity and having a team of expert professionals curbs the risk of inefficiency and boosts performance. Hence Virtua Hub's team of payroll professionals well complimented with our payroll systems is the best payroll processing solution. We can manage a complete spectrum for a group of companies or even for a start-up establishment with our expert payroll outsourcing. We carry out a hassle-free calculated payroll computation based on employee attendance, leave, and reimbursement data. This ensures access to accurate and timely pay-slips along with reimbursement slips. We cater to all the client requirements, whether it is staffing or background verification, we are the solution. We provide payroll outsourcing services as follows.
Maintenance of payroll master database
Gross to net salary computation
Payroll and non-payroll reimbursement processing
Statutory compliances: Provident fund/profession tax/labour welfare fund, as applicable
Tax compliance: TDS return filing (24Q) and issuance of tax deduction certificate (manually or digitally signed)
Employee query handling over email and phone, online portal
Payment processing support: Salary, TDS and other payroll statutory
Year-end support: Tax-saving documents checking, a mock test of annualized tax computation, on-site help desk
Employee self-service (ESS) support through a web portal
Payroll statutory audit support
Management information system (MIS) folder: Salary journal voucher (JV), fund statement, headcount report, payroll variance report and other customised reports
Gross-up payment processing support
Change management support in case of merger, acquisition or inter-entity transfers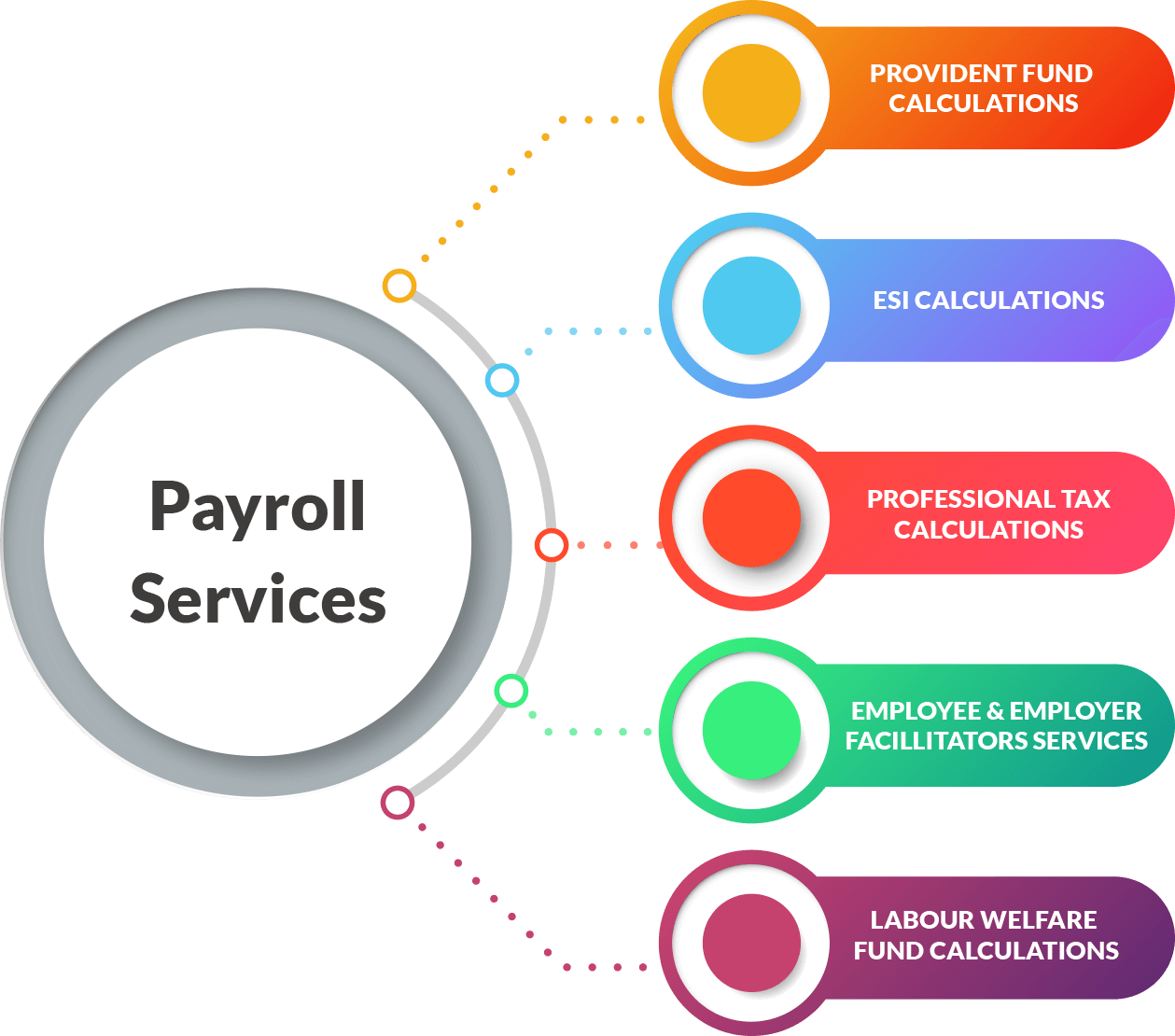 Why Payroll Outsourcing Services ?
Outsourcing helps reduce costing
It ensures timely delivery of pay slips and reimbursement slips
Reduces the risk of employee turnover
Reduces time consumption for the company, as the company doesn't have to keep check on the changing regulations and government norms.
3 Reasons to Choose Payroll outsourcing companies
Money – Outsourcing is cost effective and it doesn't cost you much
Accuracy – Since the job is done by professionals, you can expect them to complete the payroll process without errors.
Engagement model
We wish to assure you the best secure environment for confidential handling of the payroll data. The operation procedure for collection and handover of all payroll related data would be as follows.
An Account Manager identified from our end would do all the client side engagement and our back office team for processing and handover of payroll data.
A Co-ordinator to be identified at your end for a one-point contact with us for all the confidential information.